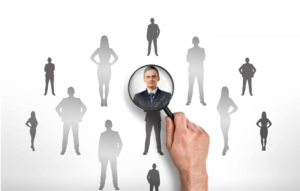 KMG Japan was established in Tokyo in 1988 to provide consultancy services to US healthcare companies attempting to enter the Japanese marketplace. In the 30 years since its founding, KMG Japan has represented well over 100 clients and successfully structured numerous alliances between Japanese and foreign healthcare companies.
KMG has the experience to develop client opportunities
The success of KMG Japan has been built on an in-depth understanding of current and evolving technologies, a solid knowledge of regulatory issues, and comprehensive market research studies combined with extensive high-level contacts in the industrial, regulatory and R&D communities in both
Japan and the US.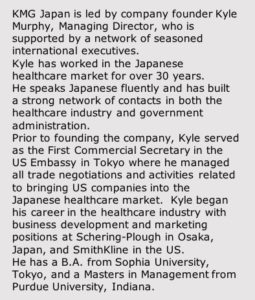 Tapping into the many opportunities present in the Japanese healthcare market requires an informed perspective, know-how and experience – and the ability to interact on a daily basis with the principals in that industry.   Also essential is an understanding of the workings of the healthcare markets in both Japan and the US.
Knowing the right people, navigating the intricacies of the market and providing swift, skillful negotiation has enabled KMG Japan to move its clients quickly into successful and lucrative ventures in the Japanese healthcare market. The ability to work in both the Japan and U.S. business markets ensures fast, appropriate responses to client needs on a daily basis, thus enabling smooth management of requirements and issues on both sides of the Pacific.
Full service from start to finish
Assistance can include initial research of product/technology competitiveness, development and implementation strategies for market entry, identification of and negotiations with prospective Japanese partners as well as with the Ministry of Health, Labor and Welfare (MHLW or "Kosei-roudou-sho").
KMG Japan offers clients various invaluable benefits
KMG Japan has over 30 years of experience in actually doing business in Japan and putting together business relationships between foreign and Japanese healthcare companies.
KMG Japan has personal and professional relationships with most of the key industry and regulatory officials in Japan.
KMG Japan's Tokyo location provides for day-to-day liaison with potential Japanese partners.  And we are only a short commute or journey from the head offices of most companies in the healthcare market.
KMG Japan has successfully worked with healthcare companies in all sectors of the market. Our experience covers drugs, diagnostics, medical devices, R&D technologies, medical equipment and services.
KMG Japan has the high level of technical expertise required to genuinely understand the advances in healthcare products and technologies and how they translate into market opportunities.This enables us to devise the most appropriate strategies to best present them to potential Japanese partners.